Evergreen

Property Management
Let us manage your Evergreen rental property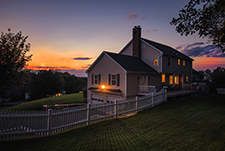 After more than 10 years in the property management industry serving the greater Denver area, Heidi Beasecker, broker owner of Citadel Property Management, decided to expand her reach to beautiful Evergreen, Colorado shortly after she became a resident.
Through her boutique-style business, her goal is to provide a personal level of service to those seeking leasing and management alternatives that will exceed expectations.
Her "mountain community" leasing and property management office is located in the heart of quaint downtown Evergreen. The "brick and mortar" location, open everyday of the week, ensures that both existing and potential clients have access to Heidi and her affinity partners—getting a feel for whom they are. Specializing in luxury homes, Citadel truly offers the gold standard in both service and personal attention.
Over the years, Heidi has prided herself on listening closely to the needs, requests and questions of both tenants and owners. Face-to-face interaction is important when talking to homeowners who are discussing big decisions regarding their home, and for tenants who have a vested interest in maintaining a positive leasing experience.
Citadel's flexible management programs include long term residential leasing with a focus on landing that high quality tenant who will appreciate your home investment and care for it like it was their own. Heidi can do either a leasing only service, or offer a full-service, peace of mind approach that provides property rent collection, management of the lease, addressing tenant needs, and maintenance of the property. With this flexibility, owners decide their comfort level and what is best for their particular situation.
The most important priority of Citadel is protecting the asset of your home. Developing lasting relationships is extremely important to Heidi; and some homeowners have been clients since Citadel first opened for business.
Heidi specializes in using a detailed screening process that goes beyond a rental application. This includes meeting with tenants to better understand who they are, and to ensure they are an ideal fit. When leasing your home with Citadel Property Management, you can be assured that it will be maintained in the best condition during its span as a rental property.
If you are new to the world of leasing, please reach out to Citadel Property Management and Heidi will be happy to answer any of your questions. She welcomes the opportunity to meet with you to preview your home, provide a no obligation assessment of the rent rate, discuss steps to get your home ready to show, and most of all to begin that lasting relationship.
For more information, call 720 394 7213 or email Heidi.citadel@gmail.com
Client services include:
Coordinate professional photographs, and create a compelling virtual tour of your home.
Advertise your home on multiple websites to increase the pool of tenant prospects.
Help to exceed your goals by creating dynamic rate structures of costs.
Answer all inquires and handle the logistics for you.
Conduct a detailed screening of potential tenants to ensure the right match for your home.
Provide proprietary lease documents and disclosures pertinent to Colorado statutes.
Perform walk through with tenants at move in and home inspection at the time of departure.
Handle all maintenance issues, cleaning of property and project management.
Conduct periodic home inspections inside and out.
Provide owners with detailed monthly revenue reports and online access to electronic payments.
Handle all payments and provide 1099 statements for yearend taxes.
Engage in highly effective Internet marketing programs utilizing top SEO ranking techniques.
Provide access to our experienced management team local to the Mountain Community market.
Offer 24-hour property/home emergency services within the scope of the leasing agreement.
Inquire About Our Services
(720) 394-7213
Evergreen Area Information
This town was formerly a Ute and Arapaho hunting ground until white settlers homesteaded here around 1860. Its ranches and farms fed Denver's burgeoning population and its forests supplied the city with lumber. However, Evergreen's beauty has been its most lasting resource. Celebrities such as Greta Garbo and Teddy Roosevelt escaped to the lush resorts here, leaving behind colorful tales and mementos.
Today, Evergreen boasts an eclectic community and a rich cultural existence — local theater, arts, music and fine dining. For recreation, jog up to Evergreen Lake. This pristine jewel offers boating and picnicking in the summer, ice-skating in the winter and fishing year-round. Drive up nearby Mt. Evans (14,624 feet) or watch as the Maxwell Falls cascade 76 feet into a rocky canyon. Camping, hiking, fishing and more are offered through Jefferson County Open Space.