Agent Referral Program
Let us be your partner in Property Management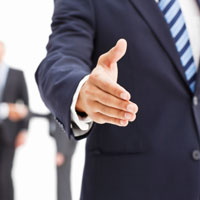 At Citadel Property Management relationships are important to us. We understand the value of communication and protecting the relationships that you have created with your clients over the years. That is why we developed our Agent Referral Program — to let you as a real estate agent focus on sales, and rest assured that your clients have the care and support they need with a property manager.
We specialize exclusively in property management, and we have designed our Agent Referral program to provide the same level of care and attention that you would give to your clients. We focus on providing a full-service property management solution that takes care of the property start-to-finish. This means that when you start working with your client again, the home will be as good as or better than when you left it.
Our pledge is to maintain the property and provide the best possible support to your client and smoothly transition them back to you once they are ready to sell. As property management specialists we only focus on property management and will never take your client away from you.
We are your resource in property management. Contact us today to find out how we can mutually work together and combine our complimentary services.
What Makes Us Different?
Why choose us?
Citadel Property Management has a unique offering in our space.
We are proud to say that in our years of business we have never had to evict a single tenant. This comes from selecting quality tenants, yes, but also in maintaining a relationship with them so we know about life changes when they happen and communicate solutions.
Landscaping of rental homes should look as nice as all the others in the community. We make sure that is the case. Seasonal inspections are done to ensure that both the inside and outside of our properties are being well-cared for, and if something needs attention we get to it within a day or two.
We are open and available to meet prospective clients on the weekends.
When you call you get to talk to us! We are responsive to your call, text or email within a very short amount of time.
The majority of all of our business comes from referral.
Refer A Client
(720) 394-7213